Gynecologist Prescription Pad
Create Gynecologist Prescription Pad
If you're a gynecologist in search of a high-quality prescription pad, our "Gynecologist Prescription Pad" is just what you need. The pad design features a beautiful light blue and black color scheme and an iconic image of a fetus or unborn baby in the header. On the left side, you'll find fields for the doctor's full name, qualifications, job status, and healthcare institution name, while the right side is dedicated to prescription information such as the date, patient's name, age, sex, and the doctor's diagnoses or advice.
Creating your custom prescription pad is easy with our simple online form. Simply input your information and press the "Preview & Download" button to receive your personalized prescription pad in PDF format. Our Gynecologist Prescription Pad is sure to impress your patients and provide you with the professional look you deserve. Create yours today for FREE!
Fill in the information below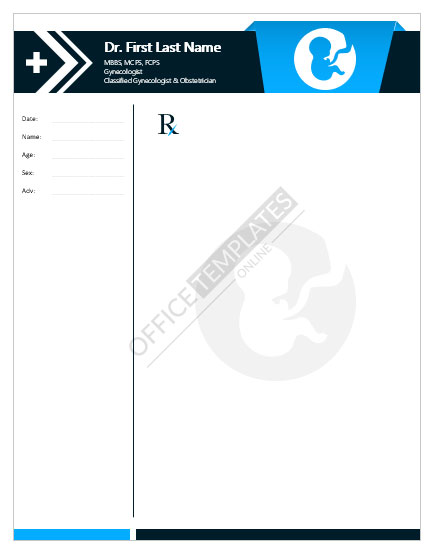 ---
Other Similar Templates
Some other templates similar to this one are also available here. If you would like to create your PRESCRIPTION PAD using one of these templates, visit the following.