Sports Certificate of Excellence
Create Sports Certificate of Excellence
Recognize sporting excellence with our stunning Sports Certificate of Excellence. Featuring a beautiful calligraphic font for the main certificate heading and a sub-title just below it, the certificate is adorned with a horizontal flower divider that separates the title from the rest of the certificate's contents.
The certificate design also includes a line that reads "This certificate is proudly presented to," followed by the recipient's name in a calligraphic font. The Sports Certificate of Excellence is perfect for recognizing the achievements of athletes, coaches, and teams alike.
Create Your Sports Certificate of Excellence Online Creating a Sports Certificate of Excellence has never been easier! With our online input form, you can quickly and easily enter all the necessary information for your certificate, including the certificate title, recipient name, date, and a short message.
You can also add a personal touch by drawing your signature, which will be placed on the certificate. Once you're done inputting your information, simply press the "Preview & Download" button to generate a printable PDF certificate. And the best part? Creating your certificate online is absolutely free!
Recognize sporting excellence in style with our beautiful Sports Certificate of Excellence. Create yours today and celebrate the hard work and dedication of athletes and sports enthusiasts.
Fill in the information below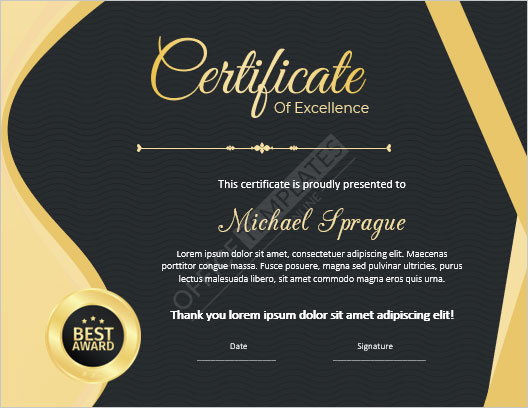 ---
Other Similar Templates
Some other templates similar to this one are also available here. If you would like to create your CERTIFICATE using one of these templates, visit the following.
A sports certificate is a certificate awarded to a player for their expertise and participation in a sport. This document intends to serve as evidence of the achievement of a goal, of performing a legendary move in sports. This is clear proof of performing their best in the sport and proving themselves in front of the world. This signifies the essential or outstanding qualities of the player such as perseverance and determination. In other words, it serves as a form of credential validating their achievements or participating in any sports-related activities.
This certificate is awarded nationally and internationally by institutes providing the chance to players to express their extraordinary and excellent abilities. This award clarifies the best player of the sport.
According to design and format, the sports certificate may vary because this certificate is available in many colors and designs. In simple words, you can customize its presence of it in your own way.
The displayed certificate is a combination of two unique colors black and gold with white fonts written on it. The beautiful royal design on it gives a classic touch. The lining on the left and right sides of the certificate makes the look more attractive.