Floral Wedding Place Card
Create Floral Wedding Place Card
Welcome to the Online Floral Wedding Place Card Creator! Here, you can add a touch of beauty and elegance to your special day by creating unique and personalized place cards for your guests. With just a few simple steps, you can create beautiful and memorable keepsakes for your wedding celebration.
To start, simply fill out our easy-to-use form with your guest's Name, Table Number, and any personalized message you would like to include. Our generator will then create a stunning floral wedding place card, featuring a beautiful corner design with colorful and delicate flowers.
Once you submit the information, you will be taken to a preview page where you can see exactly what your place card will look like. If you need to make any adjustments, simply use the provided buttons to make any changes.
And, once you are satisfied with your place card design, you can easily download it in PDF format for printing. Simply print the place cards, fold them in half, and place them on each table for a beautiful and personal touch at your wedding celebration.
Don't miss this opportunity to add a touch of beauty to your special day. Try our Online Floral Wedding Place Card Creator now and create stunning place cards that will make your wedding celebration even more memorable.
Fill in the information below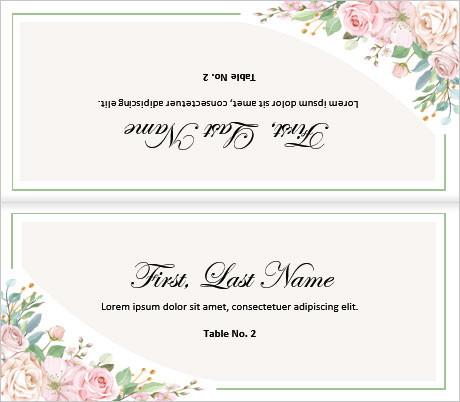 ---
Other Similar Templates
Some other templates similar to this one are also available here. If you would like to create your PLACE CARD using one of these templates, visit the following.
A floral wedding place card is a type of wedding card or wedding invitation for the guest and is used to manage the sitting position of the guests in the weddings of their loved ones. But this card is a specific format with a floral design on it to look creative and beautiful. Using this card is the best way to manage the positions of guests in large gathering ceremonies. Managing the sitting plan for attendees at any function is not easy work for anyone. This little piece of information has made this time taken work easy to do.
This card is mentioned with the name of the guest and the exact location of the seating place where they have to sit in the ceremony. The people who are hosting a gathering of 100 guests for a dinner or as many as 200 in a wedding ceremony use these cards to welcome their guests warmly. The card is placed on the dining table with the name of the family to display their particular position.