Wedding Table Place Card
Create Wedding Table Place Card
"Say Hello to the Perfect Wedding Table Place Card: Create Elegant Folded Card Online with Custom Guest Names, Table Information, and Personal Messages"
Are you looking to add a touch of beauty and elegance to your wedding reception tables? Look no further than this online form for creating stunning folded table place cards. With just a few simple clicks, you can design the perfect card to mark each guest's seat and make them feel special.
This table place card features a beautiful yellow border and a vibrant floral image with purple and pink flowers. To create your cards, simply enter the guest's name, table information, and any personal message you'd like to include, and you will get a printable card in PDF format in just a few seconds. Our user-friendly form makes it easy to create a polished, professional look.
Don't settle for generic, boring place cards. Use this online form to design the perfect table card for your special day. Your guests will appreciate the extra effort and your tables will look picture-perfect. Get started now and add a touch of class to your wedding reception!
Fill in the information below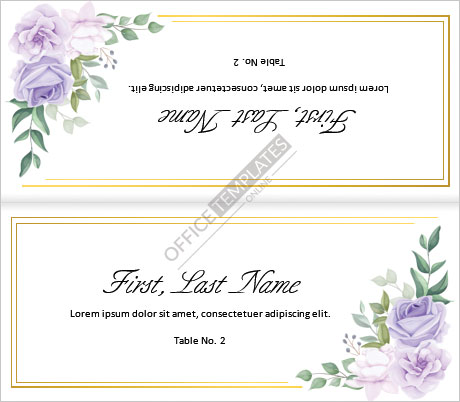 ---
Other Similar Templates
Some other templates similar to this one are also available here. If you would like to create your PLACE CARD using one of these templates, visit the following.