Restaurant Place Card
Create Restaurant Place Card
Here, you have the opportunity to create a customized and beautiful table place card for your dining experience with us. All you need to do is fill out a simple form with your Name, Table Number, and any special message you would like to include.
Our user-friendly form makes it easy for you to provide the necessary information, and our generator will then create a stunning, folded table place card in just a few seconds. The design of the place card will add a touch of elegance to your table setting and enhance the overall ambiance of your dining experience.
Once you have filled out the form, you will be taken to a preview page where you can see exactly what your table place card will look like. You will have the option to make any necessary changes or adjustments to the information you provided before finalizing your design.
And, once you are satisfied with your table place card, you will have the option to download it in PDF format for printing. This way, you can have a physical copy of your personalized place card to use during your dining experience.
Don't miss this opportunity to add a touch of sophistication to your dining experience. Try out our Table Place Card Generator now and see just how easy it is to create a beautiful and personalized table place card.
Fill in the information below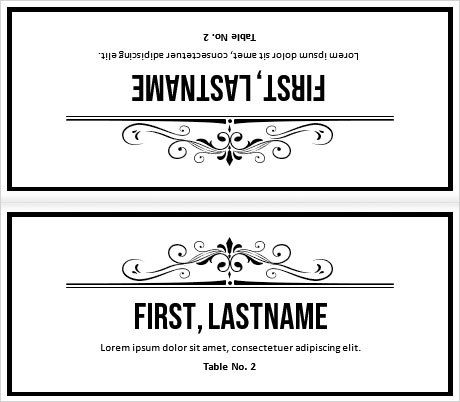 ---
Other Similar Templates
Some other templates similar to this one are also available here. If you would like to create your PLACE CARD using one of these templates, visit the following.